Landscaping web design agency
We build beautiful Landscaping websites
Professional Landscaping web design, backed by a team of WordPress website developer experts.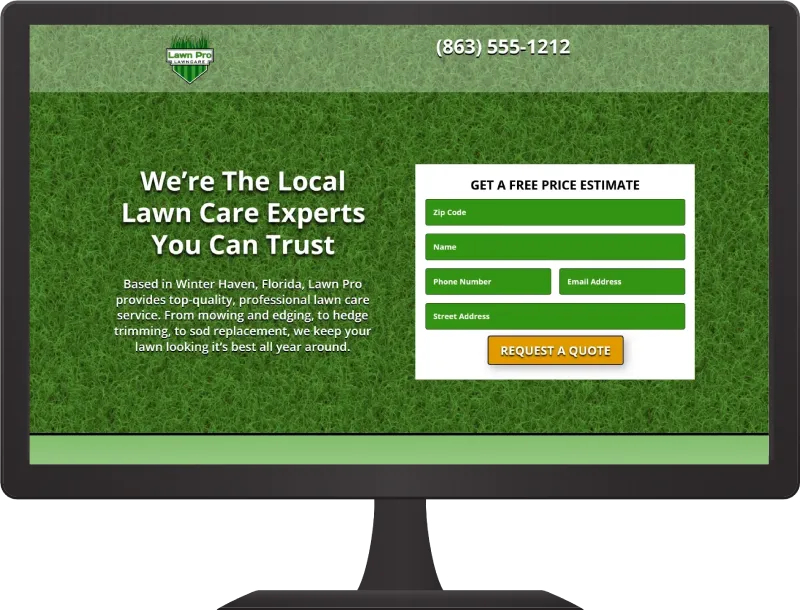 Professional website design process
Grow your business with a great landscaping website
The world is more digital today than it was a few years ago. As such, landscapers need an online presence to attract and market to customers. You can use a website as a platform to search for new clients, collect payments, and schedule services. When you operate a landscaping website, you beat the competition by exposing your business to a high number of potential customers online.
At Haven Web Works, our web designers specialize in creating web designs that convert. The landscaping web development process is simple and seeks to create a site that shows the best of your business. When creating your landscaping website, our web designers will:
Explain the services you offer
Display the quality of projects you have handled in photos and videos
Display any awards and recognitions you have
Allow customers and potential customers to communicate with you
Let your customers book services and make payments
Our website developer adds as many features, pages, and categories as you need. For instance, you may want to add a blog that allows you to optimize your site for search engines through written content.
Our website designer works with you every step of the way to ensure that you get the best results from your online presence.
How does our web design company create your landscaping website?
There are so many elements that make up landscaping web design. The web development team ensures that your website has the following qualities.
Fast loading speed
The first rule in website development is that a website needs to load fast. If your website takes longer than a few seconds to load, customers and prospects will abandon it for the competitors. Our landscaping website developer ensures that the elements on your website are light enough so that the website design doesn't chase away customers.
Our website designer will ensure that you have enough graphics to attract customers but not sizeable elements that slow down your site. Speed is a combination of a good host, a good website builder, and a good website design. Our landscaping website design services are geared toward ensuring that you get the best from your website.
User-friendly design elements
A landscaping web designer understands the need for user-friendly website design. The developer will create an easy-to-navigate website with clear pages, a search bar, and simple menus. The website development rules say that a user should get the information they need on your website in three clicks and no more. If a user needs more than three clicks to get the information they need, then your web design has failed.
Graphics that attract customers
The website designers at our web design agency for landscaping businesses ensure that the fonts on your website are legible. Large and clean fonts on a background of neutral colors are ideal to keep your customers scrolling. Our web design company ensures that there are no more than three types of fonts on your website for legibility.
When you use our services, a landscaping website developer works with you to create a unique look for your brand. Our web design services involve looking for a theme that matches the philosophy of your business. If you ever want to change the design later, our website development team can help you do that.
An expert designer from our web design company will also ensure that the color scheme of the website attracts and keeps customers. As with font types, there should be no more than three colors on a single page of web design.
Responsive design from our website designers
Your website needs to adapt to different screen sizes. It should open as well on a cellphone as it opens on PCs and other devices. Although you can make a website design responsive through website development, the easiest way to make a site responsive is to choose the right website builder.
WordPress web development for your landscaping website
Our website developer uses WordPress to create landscaping websites. There are many advantages to using WordPress over other web design platforms. For starters, our web design services can create websites for different industries. With WordPress, you can customize the site as you need. This ensures that not only will your website be unique to your business and reflect your brand, but it will also meet the needs of your business.
WordPress is search engine optimization (SEO) and mobile friendly without any complex web development process. Any theme or template our website developer chooses will be easy to optimize for search engines and will also adapt to different screen sizes.
WordPress is user-friendly. The drag-and-drop functionality makes it easier for you and your customers to manage. After our web design services, you will find it easy to stay in contact with your customers, upload content, and schedule landscaping services.
Why professional website design services?
There are so many website builders today that make everyone feel that they can create a website and start running it. While you can add several elements to the website, there is much more to a website than adding colors and content.
At Haven Web Works, our goal as a landscaping web design agency is to create websites that convert. Our website design company ensures that besides your website being attractive, it is also fast, SEO friendly, and mobile friendly. We can also add many other features through WordPress plugins to make the site more functional.
With our website design services, you can rest assured that your website is scalable and customizable. With scalable website development, you can add more services, more pages, and more features as your business grows. You can also make the landscaping website reflect your brand and your personality more.
Contact our website design company
You never know where your next customer will come from. Our web design services at Haven Web Works cut across industries, and our experts know what is needed to make a successful landscaping website.
Our landscaping web development process is fast, and we will be in consultation with you every step of the way. Contact our landscaping website designer today and let us create a landscaping website that attracts and retains customers.