Gym & Fitness web design agency
We build beautiful Gym & Fitness websites
Professional Gym & Fitness web design, backed by a team of WordPress website developer experts.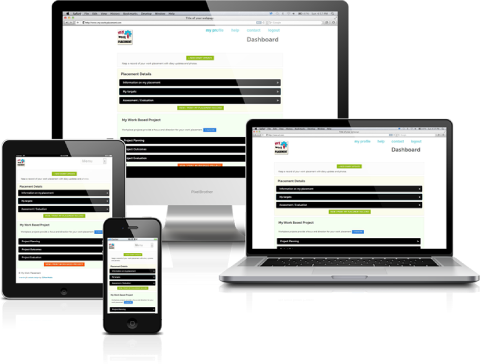 Professional website design process
Motivate clients with a new gym and fitness website design
Just as lacking a workout plan won't do anything for your strength and health, failing to plan your gym's web design will hinder your business growth. Our website design team can help your company reach its full potential with the site designs we create and the search engine optimization we provide for CrossFit studios, personal trainers, fitness studios, and gyms. If you're ready to grow your company with a modern, clean, and efficient website design, get in touch with a Haven Web Works gym website designer today.
Build a loyal clientele with a top website design company for gym owners
For those in the fitness industry, first impressions aren't always made in the gym or the studio. In today's connected world, people turn to Google and other search engines when they need information — and your website is likely to be one of their first stops. Your gym or fitness center's website is a potential client's first point of interaction, and our website design services can make it a good one. Turn to us if you're interested in a consultation with a gym web designer.
No matter how advanced your fitness equipment is or how beneficial your services are, if your website is hard to navigate or looks outdated, that's all people will see. A website is a reflection of the business, and your homepage is the first chance you'll get to leave a favorable impression on potential members. That's why investing in fitness and gym web development is such a great idea. Our SEO and website design company is here to help!
If you're not sure where to begin, leave it to us! Our team of WordPress web designers can create memorable designs for our fitness industry clients. We're excited for you to learn more about our gym website design services.
WordPress services from our website design company will help you reach more clients, faster
WordPress has numerous advantages as far as fitness web development and search engine optimization are concerned. Some of these benefits are listed below.
It's free – WordPress is free to use, install, and download. The payment you make to us at Haven Web Works covers the customizations we'll do to create a gym website design project that meets your needs. Along with fitness website development, we also offer e-commerce hosting, continual security scanning, and backups in real-time.
It's easy to customize – The thousands of plug-ins, security options, and themes found in WordPress will give you a nearly infinite number of choices when personalizing your gym's website. Thousands of no-cost templates, called themes, are available already, and dozens more are made each day. Our website designers and SEO specialists can design a custom theme for your fitness center, and with an included control panel, you can change colors, rewrite ad copy, and upload graphics quickly and easily.
Your site will become more visible to the search engines – PHP or hypertext preprocessor is used to write WordPress. That means the resulting HTML pages are easy for Google and the other search engines to read and understand. We can even include SEO keywords in your site's internal links.
Though WordPress is easy to use, there's a slight learning curve. If you've never undertaken a fitness web design project before, it might take a month or two to create a simple site, and it's likely that the results wouldn't be functional or visually appealing enough to bring in more clients and members. Don't let your competitors get all the business. Let our gym web design agency help you build a bigger customer base.
By working with the web designers at Haven Web Works, you'll bring in more clients and improve your gym's brand recognition.  Our affordable SEO and web design services can help you build a stronger web presence for your gym than you'd be able to create alone.
Bring in more site visitors and gather more memberships when you work with our fitness web design company
With our cutting-edge gym website design services, your visitors may stay on the site longer. As session times increase, you'll have more chances to turn those visitors into qualified leads and gym members. Our fitness web design agency creates sites with our clients' goals in mind. Reach your goals sooner and for a lower cost with our custom health and fitness web development and search engine optimization services.
Become a local leader in the health and fitness industry with help from a gym website developer
With help from our web design company, it's easy to demonstrate your skills to prospective clients. Use our gym web design services to encourage undecided visitors who might not be ready for a full-time commitment. Sometimes, site visitors may just want to learn a bit about your facility and how it can help them accomplish their fitness goals — and our team of web designers can help. With best-in-class gym web design services from a well-known web design agency, along with solid marketing strategies, you can establish an online presence that turns you into an industry leader.
Our website designers will help you achieve site accessibility on all devices
With the prevalence of smartphones, tablets, and in-vehicle touchscreens, it's risky to assume that clients will always access your page from a desktop. People are busy these days, and your health and fitness web design should be able to keep up. At Haven Web Works, our gym website development results are accessible from a range of devices. Our website designers will ensure that each function and component of your fitness site is consistent across devices, offering a more user-friendly experience. Our skilled website developers are eager to work with you.
We can help you revitalize your gym's website design and bring in more clients
If you're just starting out and want to encourage more people to sign up for memberships, you'll need to show them the benefits of your fitness services. Having a clean, easy-to-navigate fitness site built by a qualified web designer is a great place to start! Once potential clients see how helpful your site is, they'll be more likely to sign up. You'll be amazed at how our website design company can help you.
We can help turn old, out-of-date websites into fresh and new designs. Even if you're new to the gym business, our web design services can help. Contact us today, and we will take care of all the hard work for you.